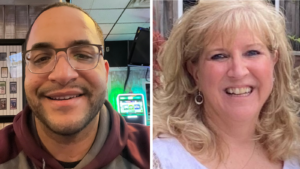 New Bethany, a local nonprofit providing street-level human  services, housing, and support that lifts individuals out of poverty, recently appointed Hector Gonzalez and Jane Patriarca to its Board of Directors. 
A Production Associate at Just Born Quality Confections,, Hector is responsible for ensuring products meet quality standards in a manufacturing setting. As a previous client of New Bethany, Hector aims to offer an important perspective as both a person of color and as someone once on the receiving end of New Bethany's services to remove barriers for others in need. His personal experiences and passion for giving back will drive New Bethany's outreach efforts to reach a larger, more diverse demographic. 
As Vice President of Product Integrity and Process Development at Crayola, Patriarca works in partnership with United Way of the Greater Lehigh Valley to assist in community benefits campaigns. Inspired by New Bethany's dedication to providing basic needs and services to the community, Jane hopes to support their mission through her board participation. Her professional expertise will support New Bethany's growth goals throughout her time on the board.
"New Bethany is thrilled to welcome Hector and Jane to our Board of Directors," said J. Marc Rittle, executive director of New Bethany. "Their dedication, expertise, and diverse perspectives are a great asset to furthering our mission of supporting those in need throughout the Lehigh Valley community."
Learn more about volunteering with New Bethany here. More information about New Bethany's services can be found here.