When his marriage fell apart, Corey's wife had custody of their two sons. When she was no longer able to care for them, he found himself without a place to stay and caring for his sons. He says he didn't know which way to turn. As a hard-working forklift driver, asking for help was difficult…
Human of New Bethany, Eugene, came to New Bethany in July 2020 when his employer discovered that he had been sleeping in his storage unit. Despite working a full-time job, Eugene couldn't find affordable housing. Soon after he connected with New Bethany, Eugene was provided with a room through New Bethany's Single Room Occupancy Program….
Edita's biggest dream is for her daughter to get an education and have a career. That was her driving factor in leaving Ecuador for the United States. Upon arriving in Bethlehem, Edita and her daughter stayed with family members. School counselors noticed a more stable home environment was needed and connected Edita with New Bethany….
The pandemic exacerbated a national crisis that existed long before coronavirus – homelessness. When Covid-19 hit the Lehigh Valley,  like many neighbors in our Humans of New Bethany community, Peter lost his home and had nowhere to go.  He and his son were lucky enough to live with his brother for a short time, but…
The COVID-19 pandemic took the world by surprise and we have all felt its effects. Many have lost their jobs and without a source of income, people have found themselves unable to provide for their families. New Bethany Ministries is a light in the dark for those who suddenly became homeless with nowhere to turn….
At New Bethany, we believe that all people, regardless of circumstances, should be treated with dignity and care without judgment. Our Mollard Hospitality Center offers clients fresh hot meals, newly-renovated shower facilities, wellness facilities, employment assistance, and educational opportunities. Times have been stressful and uncertain since the COVID-19 pandemic hit, but luckily, much of Bethlehem's…
Three and a half years ago, Human of New Bethany, Darlene, was living in her car when she received a call about an open single room at New Bethany. Having moved 7 times in the year prior, she became a resident of the Single Room Occupancy Program. Darlene is so grateful for the stability she's…
Our Transitional Housing Program is one of the few family-based emergency shelters in the region. Clients enrolled in the Family Transitional Housing program live in our Transitional Housing Facility and work with a Case Manager on action steps to move towards stability and self-sufficiency. Human of New Bethany, Jason, took custody of his 17-month nephew…
New Bethany owns and manages permanent rental housing solutions. In South Bethlehem, Wyandotte Apartments offer 7 apartments for formerly homeless families or individuals. We also offer Single Room Occupancy in Bethlehem, Coplay, and Allentown.  Human of New Bethany, Shequita, came to New Bethany with her three daughters, fleeing a domestic violence situation and looking to…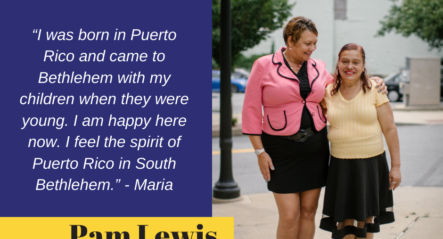 New Bethany proudly provides Case-Managed Care to those who need it. We offer rental and general assistance to homeless or soon-to-be homeless individuals and families. Additionally, we provide support services – job search and training, referrals for counseling, life skills, housing search, and support applying for mainstream benefits.  Meet Maria – a South Bethlehem resident…