New Bethany Ministries office manager, Denise O'Connor, joined the team 6 months ago, immediately before COVID-19 hit. In her role, Denise handles day-to-day office activities and communicates and manages many client activities. She is responsible for providing guidance and assistance with the many programs that New Bethany offers. Denise is often the first point of contact that a client will have with New Bethany when navigating available assistance.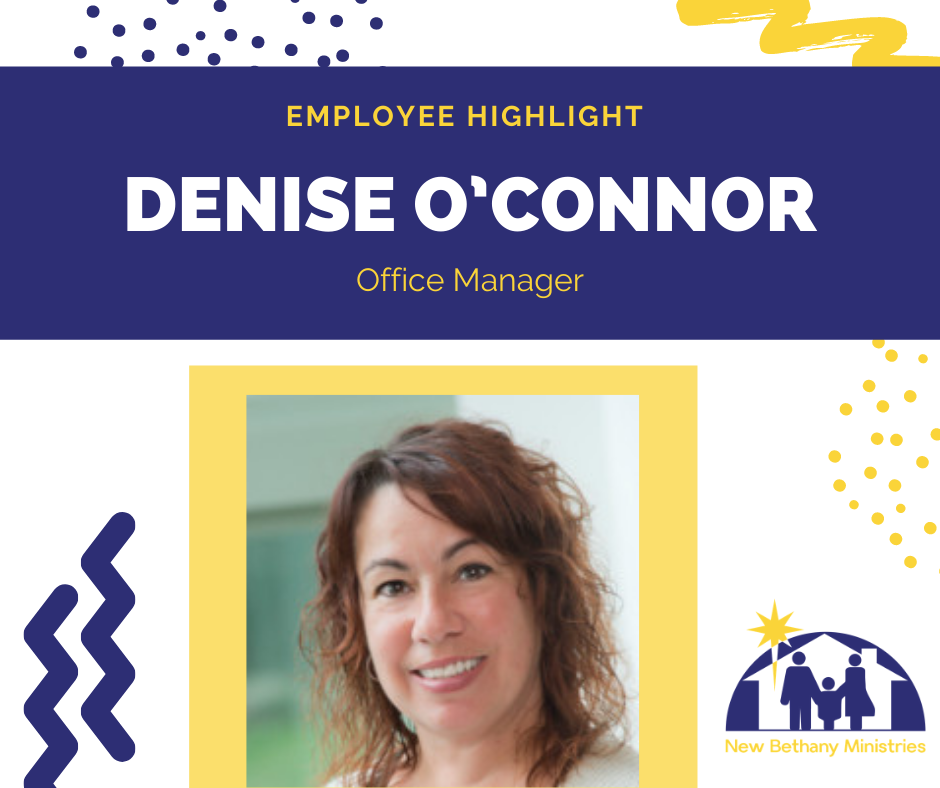 Denise's dream of working for a non-profit organization was realized when she joined New Bethany. She has always been interested in connecting with people and she finds fulfillment from directly and positively affecting others. She approaches every day with a goal of helping just one person, whether answering program questions, directing to the proper point of contact, or offering a bar of soap or face mask she feels a sense of accomplishment. 
The majority of Denise's time at New Bethany has been spent in the midst of the COVID-19 pandemic. She has witnessed firsthand how the crisis has affected New Bethany's and Bethlehem's community. Fortunately, no staff members or clients have contracted the disease. She's observed the unfortunate circumstances of parents unable to feed their children or provide safe shelter. But she has also seen the impact a hot meal, food from the choice-food pantry and a clean bed has on those families. "I am in awe of the way New Bethany and the surrounding community stepped up to help those in need during extremely stressful times. It makes me so proud to be part of it." 
Like many that New Bethany serves, Denise has not been untouched by the tragedy of COVID-19. Only a New Bethany employee for a month or so before the pandemic hit, she was understandably concerned about her status as essential personnel. However, she was determined to show up for those who needed help the most. Sadly, by June Denise had lost two brothers – one to COVID and the other to pneumonia. While Denise still mourns the loss of her family, it has proved to be motivation for continuing to live New Bethany's mission. Denise dedicates her work for the many others who have also been negatively affected by the pandemic. 
Denise's previous employment laid the foundation for giving back to her community. She attended and coordinated many fundraising events in her prior position with a company that valued and focused on corporate social responsibility. Denise has brought tremendous organization and computer skills to New Bethany, but most importantly, continues to be empathetic and passionate about helping people. "I always strive to do my best as a person to help those in need."