New Bethany Ministries prides itself on having an incredible team, and Social Work Month offers us an opportunity to recognize those serving in that capacity. We asked our social workers why they chose their careers and what drives their work.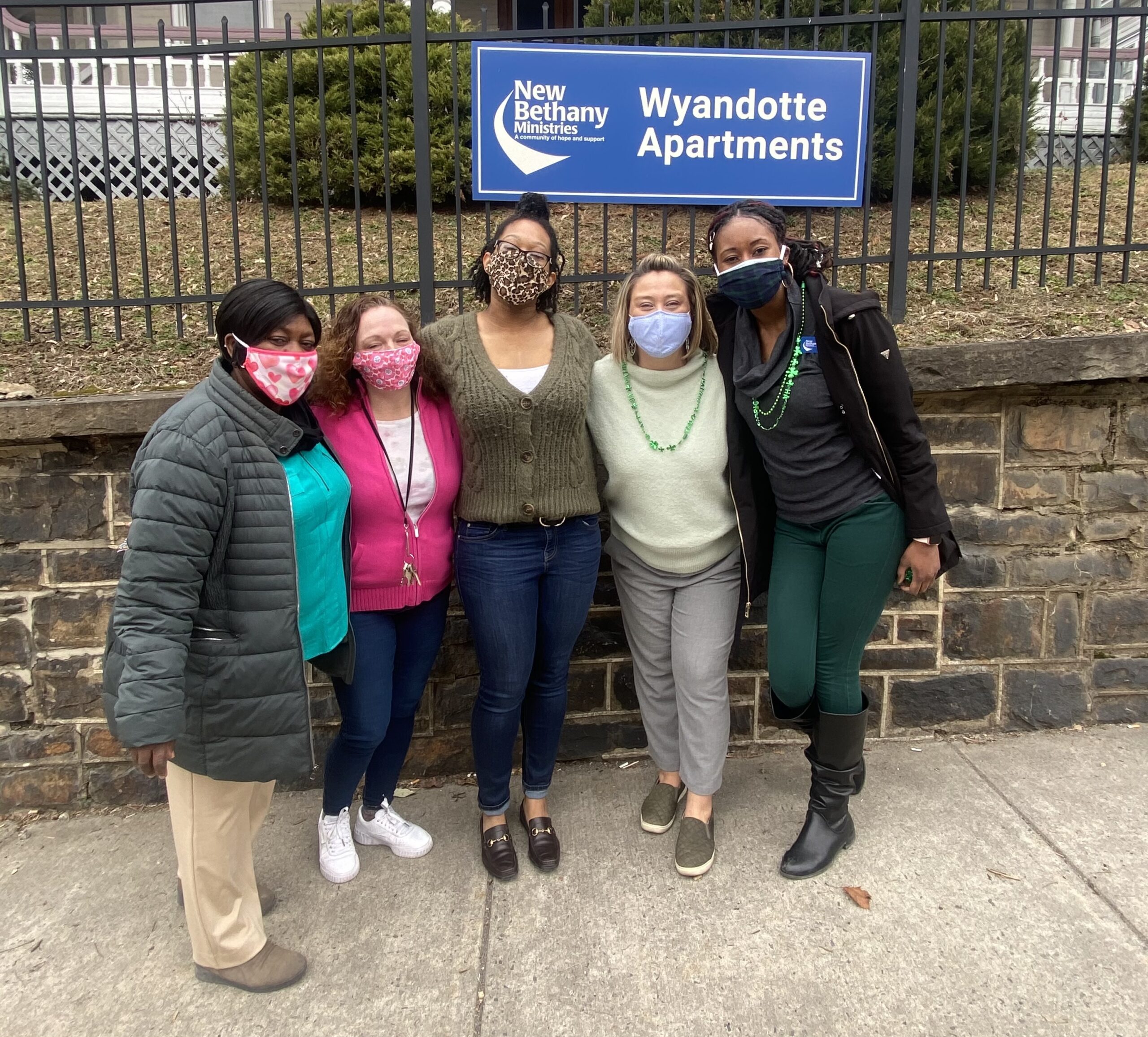 Veronne Demesyeux, LMSW – Associate Executive Director
Veronne launched her career in social work eight years ago and earned her license three years later. Even though her main focus is overall programming at New Bethany, Veronne still enjoys providing direct client services. Veronne loves seeing how grateful clients are for what we consider "the small stuff" – a shower, new socks, mailing services, and more.
I became a social worker to be apart of the change I wanted to see in the world.
When thinking back on some memorable moments, she recalls a case during which she provided assistance to a landlord struggling with a difficult client. Being there when the landlord needed it felt incredibly satisfying.
Jennifer Moll, MSW, LSW – Director of Social Services 
If you asked her mother, she would say Jennifer has been a social worker since she began speaking. Jennifer was always advocating and trying to help others, but she has officially been a Licensed Social Worker for nine months, a social worker for four years and working in the field for 16 years.
I go home every day knowing I am doing impactful work. The people I work with are true heroes.
Jennifer sees social workers as advocates willing to take the journey with those they serve. As New Bethany's Director of Social Services, she works to offer programs that help clients reach self-sufficiency. Thanks to her hard work, Jennifer has been able to help families stay in their homes. One of her most memorable successes was helping a single mother prevent eviction.
Rosemary Coleman, MSW – Tenant Navigator
Our goal is to make sure that every person is treated with respect, dignity, and compassion.
Rosemary believes the practice of Social Work may be defined as a science as well as an art that touches on the health and lifestyles of the individuals she serves. At New Bethany, social work practice is a collaborative effort and is community-based. 
As a Tenant Navigator in our Housing Assistance office, Rosemary provides the environment her clients require to ensure self-dignity and the ability to self-advocate. She appreciates that New Bethany's services are designed to guarantee that policies and systems used to structure society do not have a negative impact or create unintended societal imbalances.
Bria Johnson, BSW – Tenant Navigator
Bria earned her bachelor's in social work five years ago and never looked back. She sees social work as the combination of hard work, persistence, patience and strength. As a Tenant Navigator, Bria is able to problem-solve while keeping the needs of her client in mind. 
She loves that her work and phone calls are never the same. Bria gains satisfaction from clients who express an appreciation for the assistance provided. She remembers connecting a man in desperate need of a place to sleep with a landlord with an open room. Within 20 minutes, the client returned with a lease and a smile.
I became a social worker because I had the strongest urge to help someone. I know I can't help the world, but I do know the difference starts with one person.
Emily Forrester, BSW candidate – Housing Assistance Coordinator
Emily became a social worker three and a half years ago to give back to the individuals that have lost hope. She strives to be empathetic to others' needs and guide them to the resources they lack.
One of her top accomplishments while at New Bethany was managing the Comfort Suites Program during the COVID-19 pandemic. Emily was able to quickly place homeless individuals and families in hotel rooms for protection while assisting their search for permanent homes.
My favorite part of being at New Bethany is the team of people that I work with. I know that each day we all are helping each person who comes through our doors.
Thank you to all of our social workers for being a light for so many in the Lehigh Valley. We appreciate your hard work every day.