As part of New Bethany's mission to end food insecurity in the Lehigh Valley, our Choice Food Pantry has provided Lehigh Valley community members in need with healthy and nutritious food items for many years. With the rise in grocery costs, the number of people the pantry serves has increased by 150%. For those experiencing food insecurity, local pantries may be one of their most reliable sources of nutritious food. Being located right in the center of Bethlehem, New Bethany's Choice Food Pantry serves as a significant resource for many in the area.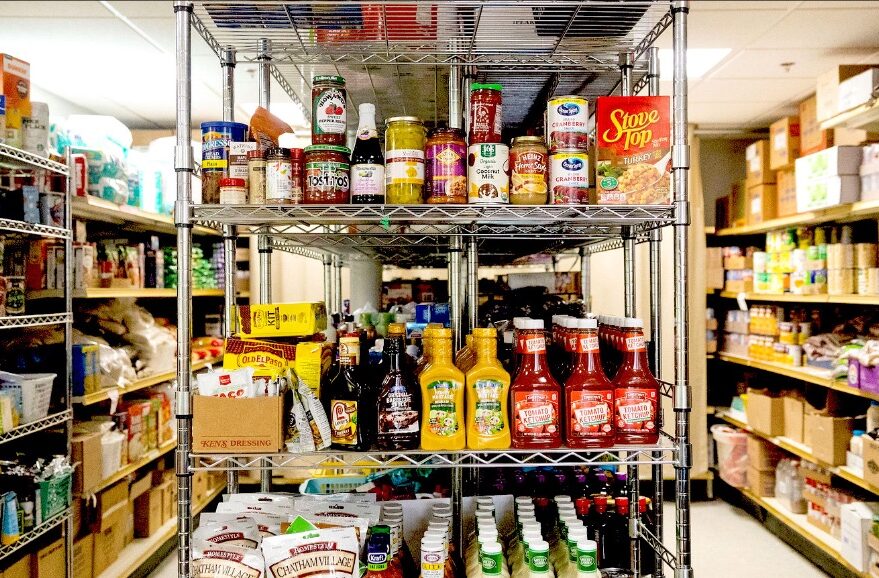 In 2016, New Bethany was offered purchase rights to a property on Shawnee Street in Bethlehem by the children of an active church and community member who had recently passed. As someone who had spent much of her time working to help those less fortunate than herself, her children thought it was fitting to allow New Bethany to use her property to benefit the community. New Bethany renovated the space and, in 2018, opened it to the public as the new location of their Choice Food Pantry. 
The COVID-19 pandemic heavily impacted food insecurity and accessibility. With the recent spike in grocery prices, the pantry is vital to the health and well-being of those in need. Thanks to recent expansion, the Choice Food Pantry can serve more in the community as efficiently than ever. The larger space allows for a greater amount of donations and room for volunteers to help stock, pack, and give out donations. Being the only property on the street makes it more accessible to clients and easier for vendors and donors to move donations into the receiving area. A primary goal for the pantry was to have the ability to stock fresh produce, dairy products, and ready-to-eat frozen and refrigerated items, and with more available space, they can now do so. 
Around 2,000 pounds of food is donated to New Bethany each week. These contributions are collected through individual drop-off donations and 19 other local farms, businesses, and organizations within the Lehigh Valley. Last year, over 190,000 meadonated to the choice ls and 2,200 grocery carts of food were distributed to community members in need, including 1,473 unique people. Still, with the immense amount of donations received every week, the pantry has maintained its ability to distribute adequate food to clients. 
Choice Food Pantry provides a three-day supply of nutritious food each month (including fresh produce, perishable proteins, and fresh dairy) to neighbors experiencing food insecurity. Neighbors select their groceries in accordance with their preferences and cultural and/or religious needs. New Bethany also provides nutritional information and referrals to our services and those of our community partners. 
Unlike most pantries, the Choice Food Pantry is open Monday through Friday, with emergency services available on evenings and weekends. Daily services are also available for those experiencing homelessness, where they'll receive non-perishable, easily opened, and portable food items. 
Pantry staff and volunteers are passionate about helping those in our community. When it was discovered that a young volunteer was personally experiencing food insecurity and other issues back home, the pantry coordinator acted fast. The coordinator signed the volunteer up at the pantry and connected her with additional resources, which helped her find full-time employment. Today, the pantry provides her with continued access to healthy, nutritious foods, and she now has stability and independence that she hadn't had before. 
If you're interested in learning more about New Bethany's Choice Food Pantry or in signing up for pantry services, click here.