Meet Veronne Demesyeux, LMSW, New Bethany Ministries' Director of Operations! She is responsible for the design and oversight of all of New Bethany's programming and case-managed services. This includes food access, homeless prevention, transitional, and permanent housing programs.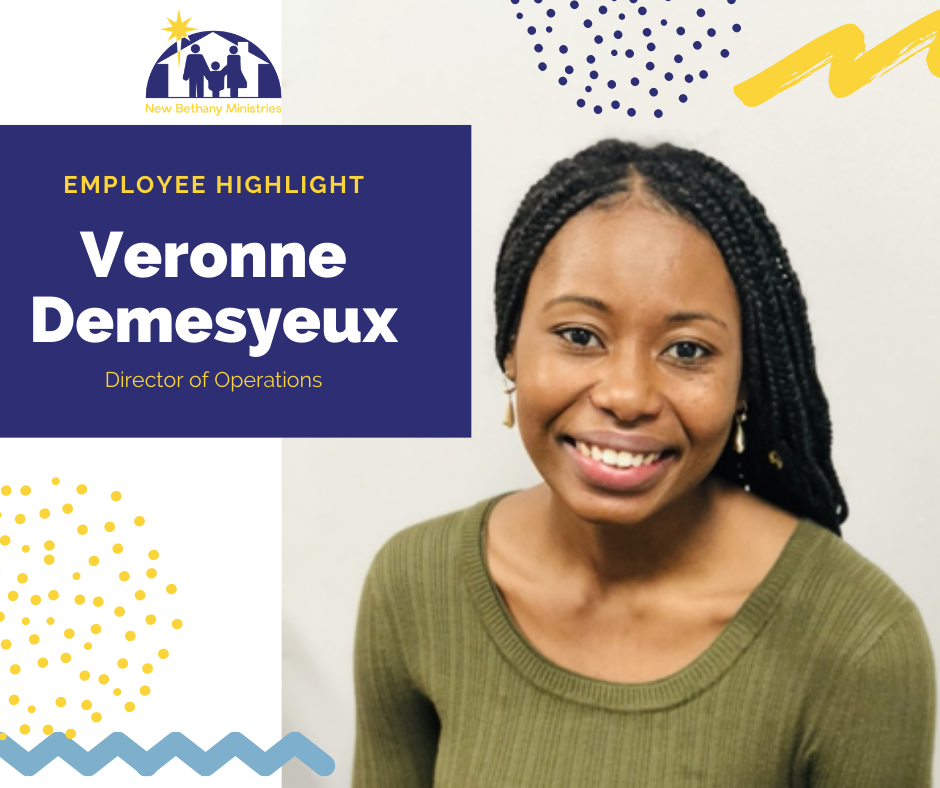 When reflecting on how her past employment has prepared her for the programs she develops at New Bethany, Veronne credits her positions as the Assistant Director at a New York City emergency shelter and a Case Manager. 
"I arrived at New Bethany confident in my professional people skills. I have been able to implement everything from how to write case notes, to speaking to people and letting them know that I value and acknowledge their concerns, and being present in the moment when I'm meeting with individuals," Veronne acknowledges. 
The most rewarding part of her job is the work she does developing and implementing new ideas that assist New Bethany clients.  
A specific moment that stands out for Veronne was working with a client, Faye. Faye was a resident in the Permanent Housing Program and thanks to the policies in place her housing has remained secure and stable. While working with Faye to find permanent housing, Veronne ensured that she personally made a connection with the landlord. This open communication allowed the landlord to feel comfortable to contact New Bethany if there is an issue with a resident, rather than resorting to an abrupt eviction. In this instance, Faye's landlord contacted Veronne on her personal cell phone as needed and they were able to work together to ensure that Faye did not lose her housing. 
"We are proud of  Veronne's accomplishments. It's been rewarding to work together as a team to build a better community where our neighbors facing poverty, hunger, and homelessness can have the opportunity to become self-sufficient," Executive Director Marc Rittle commented.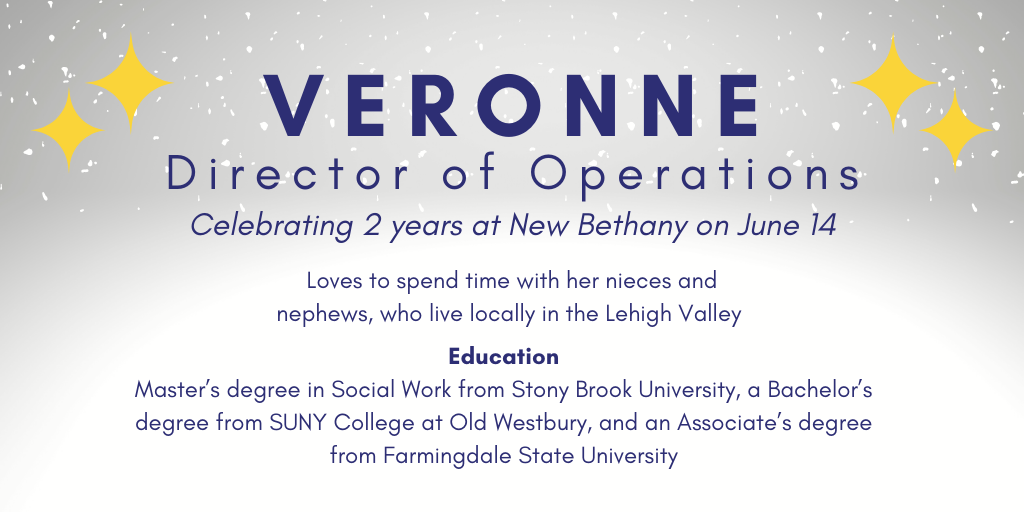 One of Veronne's most recent achievements was the creation and implementation of the Comfort Suites Housing Program. As a result of the COVID-19 pandemic, New Bethany Ministries partnered with Comfort Suites and the City of Bethlehem to provide transitional housing to the city's homeless population. Originally, the program allowed for occupancy of ten rooms, but in response to the need it was increased to 24. To learn more about how this program has impacted the community, read our story here.
In the two years since she moved to the Lehigh Valley and joined the New Bethany team, Veronne has created a strong and measurable impact. In recognition of her leadership, innovation and work with our most at-risk community, Lehigh Valley Business has recognized Veronne 2020 40 Under 40 award recipient! Veronne was nominated by Women with Wings, a women's rights advocacy group led by  Jane Wells Schooley.  Women with Wings actively acknowledges and supports minority women throughout the Lehigh Valley.