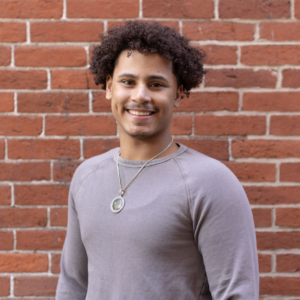 Meet Corey McDowell, a caretaker in New Bethany's Transitional Housing Program, which provides immediate housing services to those in need to find permanent, safe, and secure housing. As a caretaker, Corey's main responsibilities center around ensuring residential housing areas are clean and secure, monitoring and logging building activities, documenting case notes, and identifying and reporting any hazards or issues within the housing facilities to secure the comfort and safety of all residents. Since joining New Bethany five months ago, Corey is on his way to becoming our Lead Caretaker. He is also beginning to become more involved with case management, taking over some of our client's cases under the direction of New Bethany's Director of Residential Services, Lupita Bonilla. 
Corey's interest in joining our work sparked when he found an opportunity on Indeed's career search website. For Corey, becoming a social worker has been a long-time dream, and he's grateful that New Bethany allowed him to work within the social services field. 
Before working here, Corey gained experience interacting with people from all walks of life through his previous positions, which he says has provided him with the tools he needs to interact with the clients we serve daily. His passion for this position is powered by his natural affinity to be a helper and positively impact those in our community who need it the most. Throughout his time at New Bethany, his hard work and dedication to the residents he serves have not gone unnoticed, even after residents leave the program. 
"I have experienced some moments where I've run into past clients," said Corey. "They are always so excited to talk to me and update me on the things going on in their lives. It's inspiring to see the immense impact our work at New Bethany has on those we support every day." 
Corey is incredibly passionate about his role at New Bethany, and although he has only been on the team for a short time so far, he is excited to grow within the organization.