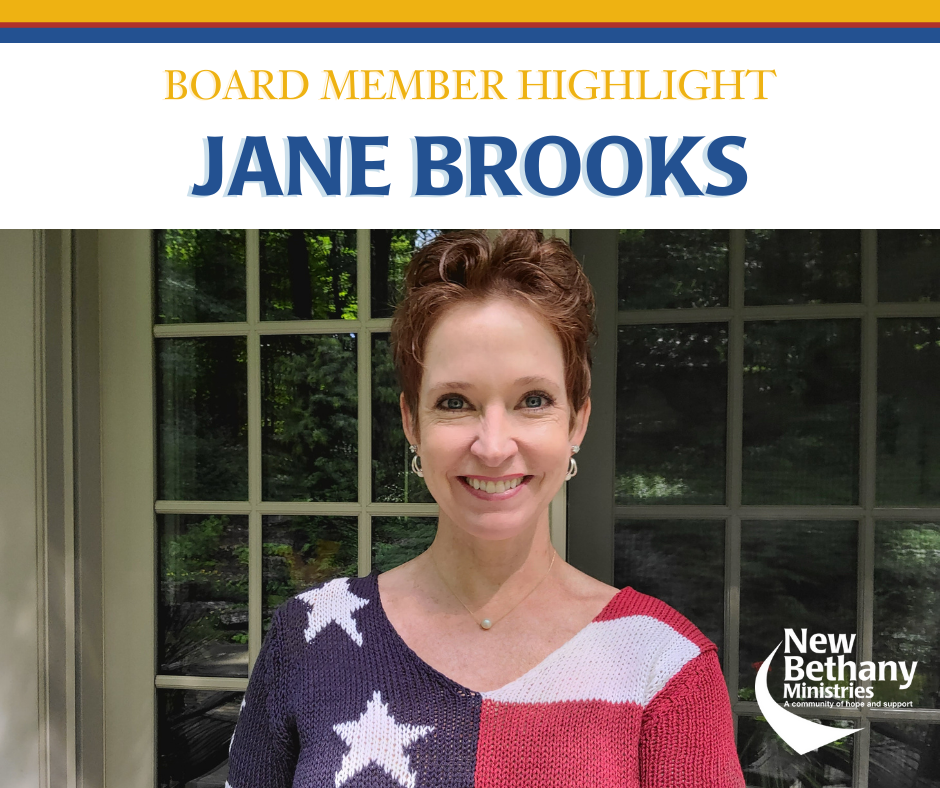 Meet Board of Directors member Jane Brooks, Community Affairs Regional Manager for Highmark Blue Shield. In addition to her primary role at Highmark, she serves as program officer for the Highmark Foundation, providing high-impact health grants to organizations serving the uninsured and underinsured population in Central and Northeastern Pennsylvania. 
Jane discovered New Bethany Ministries in the late '90s while working in downtown Bethlehem. She contacted Reverend William Kuntze, a former executive director, to discuss how Highmark could be a valuable resource to the homeless provider. Thanks to her willingness to get involved and passion for the mission, Jane was offered a position on New Bethany's Board in 2002. She eagerly accepted, and Highmark has been a funding partner ever since. 
"While touring New Bethany, I realized I never recognized how many people in the Lehigh Valley don't have access to basic needs, like food and housing," Brooks stated.
I felt compelled to volunteer, especially at Mollard Hospitality Center, and dedicated time to preparing and serving meals. When asked to join the board, I knew it was the perfect opportunity to make an even bigger difference.
Jane took a hiatus from the board after ten years of service and rejoined in 2019. She currently serves on the development committee, guiding fundraising efforts for New Bethany's programs and services. She previously served as the Board's secretary.
When Jane is not tirelessly working to impact lives, she enjoys fitness activities like obstacle course races, golf, and hiking. In fact, Jane used to be a competitive Scottish Highland Dancer. She and her husband travel to a new, exciting location each year and love to travel by train.